photo from fashionista.com
Hi Everyone!
In celebration of GG being back with new episodes, I thought I would give away a copy of the book
You Know You Want It
by GG's costume designer, Eric Daman.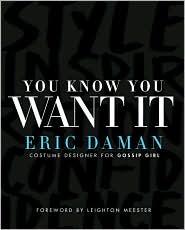 See a preview here:
It has sections on...
how to edit your closet

what key pieces everyone needs to own

what styles look best on each body type

how to accessorize to stand out and define your own style

how to pick your best colors
and much more!
Loaded with illustrations and pictures, it is a fun informative read as well as something to glance at for inspiration. In my opinion it isn't the first or last book that helps you create a wardrobe you love, but it is a perky one!
The Contest Rules are:
1. You must be a subscriber/blog follower. Please enter one time only.
2. You must comment. You can write anything. It could be what your favorite thing or character from GG is or it could be the ever popular "enter me", but try to have fun with it!
3. You must enter your comment with a valid name/login. No anonymous entries will be accepted.
4. The contest ends on Wednesday, March 17th at midnight CST. No entries will be accepted after that time.
5. I will use Random.org to pick the winning entry and the winner will be announced on Friday, March 19th.
6. If you are the lucky winner, you must contact me with your mailing address so that I can send you your prize.
It's as easy as that.
So be sure to enter and good luck!